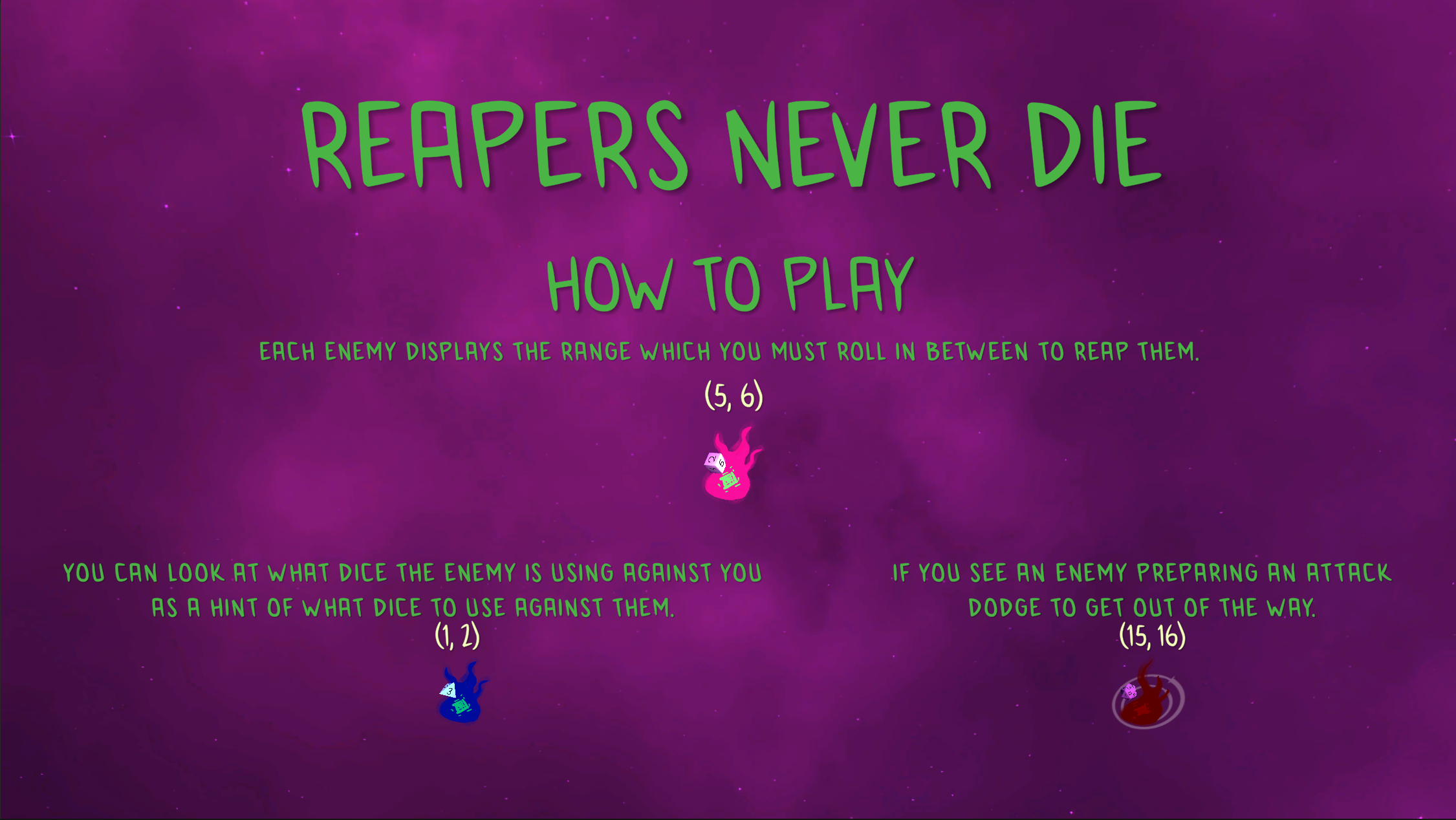 Reapers Never Die
REAPERS NEVER DIE
MULTIPLAYER ACTION RPG
Welcome to Reapers Never Die, an exciting new Action RPG where you can play with your friends as Grim Reapers or reap alone!
Your objective is to collect wayward souls who wander around their tombstones, listening to the absence of birds singing, and of whom desire absolution -- yes, yes, you must collect these lost souls.
Your death dice in-game are critical to success -- a reaper must roll within a soul's target range to defeat -ahem- I mean, to collect them!
The range above a soul's head shows what you must roll to reap it. Each soul has a dice that it uses to attack you with which determines it's damage range. You can also use the dice indicator as a simple way of knowing the most effective dice to use against the soul. Using the most effective dice against each soul is the key to success. You can also see what number you rolled in green above your head each time you attack.
Use WASD for movement, left-click to attack, scroll mouse wheel to cycle your death dice, and spacebar to Dodge. Don't forget to click ESC if you want to see the in-game menu.
Disclaimer: Reapers Never Die is brought to you by the fantastic team at Bouncy Castle Games; no souls were harmed during the making of this game. Soul discretion is advised.
Keyboard Controls:
WASD - Move
Left Click - Roll Dice/Attack
E - Cycle Dice to the Right
Q - Cycle Dice to the Left
Space - Dash/Dodge
Escape - In-Game Menu
Controller Controls:
Left Joystick - Move
Right Trigger - Roll Dice/Attack
Left Bumper - Cycle Dice to the Left
Right Bumper - Cycle Dice to the Left
South Button - Dash/Dodge
Start Button- In-Game Menu
Notes:
WEBGL VERSION IS NOT CAPABLE OF HOSTING BUT IT IS CAPABLE OF JOINING BY ENABLING "INSECURE CONTENT" IN YOUR WEB BROWSER.
DOWNLOAD THE PC VERSION TO PLAY WITH FRIENDS THE HOST MUST OPEN PORT 7777 AND PROVIDE YOU WITH THEIR IP ADDRESS.
Download